Welcome to Bierhaus zum Augustin!
Augustin is the meeting place for Klagenfurt locals, always a hub of activity.
It is more than a pub. It is the communication centre at the heart of the city. With a welcoming atmosphere, a comfortable interior courtyard and efficient, friendly and young service. The cuisine? Down-to-earth with a twist, along with hearty beers, Austrian wines and selected spirits.
News from our establishment
Of course, there is always something new to discover or report. Here you will find all news about our establishment – whether it is the menu, drinks or celebrations, you will always be up to date. We would be happy to inform you about all activities at our establishment!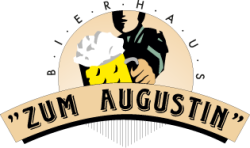 What awaits you at Augustin