Welcome to Gasthaus im Landhaushof!
Long live Austrian hospitality!
Exquisite Austrian cuisine, with Carinthian and Alpine-Adriatic accents: this is the culinary orientation at the historical Landhaushof, the best home-cooking found in Klagenfurt. Here, according to "Gault Millau", there are "almost all the classics of local cuisine and a good selection of wine". Plus: well-priced midday menus, all-day cuisine, no day off, elegant dining rooms, and a car-free garden at Landhaushof.
News from our establishment
Of course, there is always something new to discover or report. Here you will find all news about our establishment – whether it is the menu, drinks or celebrations, you will always be up to date. We would be happy to inform you about all activities at our establishment!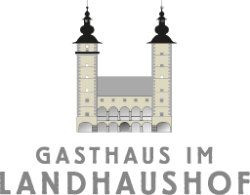 What awaits you at Gasthaus im Landhaushof